Times are rough for alternative newspapers like Planet S. Even though we're a well-established (15 years this fall!) and, dare I say, affectionately regarded paper, this biz is getting harder and harder. Frankly it's a challenge to publish this thing every two weeks, let alone make it the kind of high-class fishwrapper we want it to be (and that we think you want to read).
It's incredibly frustrating:

But such is the sad state of news media nowadays. And sure, I could whine about about how agency and government ads are way down; or how national ads have been extinct for a decade; or how our office, which once had seven staffers, now has two. But I'm not a whiner.
And anyway, there's good news: we've figured out a way you can help.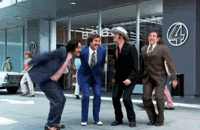 For as little as the cost of one premium beer a month, upstanding citizens like you can help keep independent media alive in Saskatoon. This ain't no handout, neither: for your support, we'll mail every issue directly to your home or office so you'll never miss a paper!
On top of that, supporters get to pick gift cards to some of Saskatoon's best restaurants and shops, as well as be eligible for supporter-only contests and giveaways. Details are here. Check it out!
Support Planet S! You'll be the hero  this galaxy needs — and wants!